Ref:
Date:
Location:
Photographer:
Ref:
Date:
Location:
Photographer:
Art & Sculpture Photography
Pictures are a universal language!
I specialise in Art and Sculpture Photography. I can bring my portable studio to you, so there's no need to transport your valuable artwork! Add a competitive service with minimal disruption and there really isn't anything to lose. Whatever the media, two or three dimensional, framed, mounted, indoors or outside, everything is possible with the correct approach and application.
This enables you, the artist, to retain control of your art, even at the photographic stage
'An appropriate decision made by the photographer is a creative decision guided by understanding and awareness of how the subject and the light together produce an image',
decisions more easily taken when both artist and photographer are present.
The subject and the light have a relationship with each other. In a good photograph the light is appropriate to the subject and the subject is appropriate to the light. It is for this reason that I have a variety of lighting solutions appropriate to every type of art and three dimensional work.
What you see is what you get. This is my yard stick - it can, first and foremost be what you the artist or sculptor intended to see, your perspective. Quite simply we replace you with the camera and take the shot. Of course it's not quite that simple but this is the essence of my approach.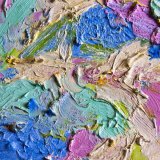 The skill and understanding of the photographer, in producing an image of a work of art, can within definite limitation allude to the emotional, mental and spiritual attitude of the artist. A viewer, looking at such a photograph, should begin to experience a sympathetic connection with the nature and quality of the energy that went into the original work of art.
Contact Edwin Rosier: info@ArtSculpturePhotography.com